Group & Corporate Headshot Sessions

At your Location or Event Pricing ONLY
For In-Studio Group Pricing, please refer to your booking agent.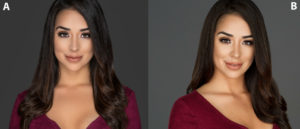 Option B (Signature 6 Light Setup):
Extended Headshot Sessions 20-30 minutes/person, with extensive coaching for businesses seeking the highest quality headshots for their employees.
Pricing: 1-4 people – $500/person 5-10 people – $225/person 11-50 people – $200/person 51+ people – $175/person
*Includes multiple looks and all of your best photos for online viewing – retouching and processing for optimal color and clarity is also included for one image.
*Additional images can be retouched for $45 each.
We will work with each individual to ensure that they get a great looking headshot. Each session involves helpful coaching as well as expert advice during photo selection.
Please see additional information below regarding delivery, payment, & travel.
Option A (3 Light Basic Setup):
Brief Headshot Sessions 1-5 minutes each, with basic coaching perfect for company events and large groups!
*Pricing: 5-10 people – $100/person 11-50 people – $75/person 51+ people – $55/person –
*Requires a minimum of 5 people to qualify. May be combined with Option 1.
*Includes the digital download of each person's best photo in high-resolution.
*All photos are processed and edited in Photoshop for optimal color, brightness, contrast, clarity, and white-balance.
*3-6 photos are taken per person, on average.
The best shot is delivered by e-mail. -Additional images may be purchased and retouched for $45 each. -For larger groups, we will bring an assistant to handle taking e-mail addresses and manage crowd flow.
– On completion of each headshot, Chris will provide contact information. -See additional information below regarding delivery, payment, & travel. Interested in an individual session at our studio? Click here
Additional Information
– Turnaround Time –
-Corporate headshot clients can expect to receive their photos in 6 weeks or less. For groups greater than 100, please allow 10-20 business days for editing and electronic delivery.
– Delivery – -Images are e-mailed or delivered via digital download from the Dropbox website. -You will be able to order prints at reasonable prices.
– Payment – -The balance is to be paid in full by the end of your session. Check or cash is preferred, credit cards are accepted. – Travel – -A travel & setup fee will be included with your quote.
– We are available for on-location shooting throughout Florida and the continental United States.
-The local (SoFL) travel & setup fee is $200. Note: Group discounts only apply to headshot sessions completed on the same day, or however many consecutive days needed to fit in the entire group. Prices and packages may be subject to change at any time.
305-424-8626 (office)